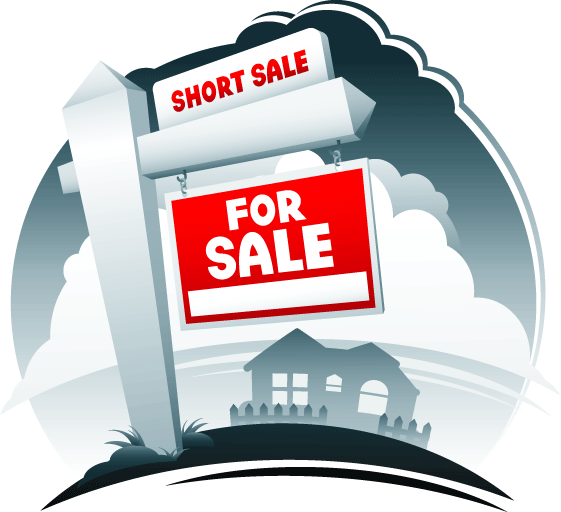 News headlines today are filled with stories about homeowners in financial distress—people who face a lender's foreclosure on their home.
Millions of American home owners are wondering what to do.
Like most crises, this one has produced its share of rumors and misinformation. One of the biggest ones is "just let it happen." Why fight back, this line of thinking goes. It's too emotionally draining, and the government's loan modifications aren't helping many people. Well, that's only partly true.
While government loan modification programs have fallen short of the mark so far, there is another solid, sensible option for homeowners. It's called a short sale—a sale to a buyer where the seller's lender agrees to accept less than the full amount owned.
Listing Your Home For Sale as a Short Sale
What is a Short Sale?
A Short sale allows a homeowner that owes more on their home than the current fair market value to sell their home. Much like applying for a mortgage, the owner must apply with the lender for a short sale and will need to show a hardship of some kind. Generally, the short sale is an alternative to foreclosure however being deliquent on the mortgage is NOT a requirement to initiate a short sale.

Examples of Hardships that Qualify for a Short Sale?
Excessive debt

Death of a income-earner or family member

Illness

Divorce

Loss of a job or Job transfer
Do You Need an Attorney For a Short Sale?
We work with the Peter M. Garson, Attorney with von Briesen & Roper to assist in negotiation of all short sale files.

I am upside down on my house. Why shouldn't I just walk away?
If you choose to walk away and your lender forecloses on you, they will eventually sell the house as a bank owned property. The difference between what they eventually sell it for (the net to them) and the balance of what was owed on the account can be used in a deficiency action. With a short sale, we are able to negotiate a compromise with the lender or have that balance forgiven altogether.

What Type of Documentation will the Lender Need to Complete a Short Sale?
Most often, your lender will need:
Last 2 Months Bank Statements for All Accounts or a letter stating you do not have an account.

Last 2 Pay Check Stubs or Unemployment assistance letter

2 Yrs of W2's or P&L statement if self employed

2 Yrs of Complete 1040 tax returns

Listing Agreement with a Realtor to sell your home

Contract from a Buyer along with Proof of Funds (i.e. mortgage approval letter)

Hardship letter

I Have 2 Mortgages On My House. Can I still do a Short Sale?
Absolutely! Homeowners with a first and second mortgage (usually a Home Equity Line of Credit) are eligible to do a short sale. In some cases, the value of the home has only dropped to the point where a short sale of just the second mortgage is necessary. In the case where both will need to be involved in the short sale, the first mortgage will allow the second mortgage to receive a portion of the sale.

Can Any Real Estate Agent Help Me with a Short Sale?
Yes they can however few have taken training that provides a basic understanding of short sales. Fewer yet have the experience of working short sale sales on both the buy and sell side over the last few years with sellers right here in the Madison, WI area. Experience is critical as less than 50% of the short sales listed for sale in the Madison, WI area close - most end in foreclosure. More than 90% of our listed short sales close successfully due to our team's ability to find the right buyer, package the file, and negotiate with lenders. We have successfully worked with many large and local lenders to get the home sold.

Who Pays the Real Estate Agent?
The lender will pay your real estate agent and the Buyer's agent up to a 6% commission in most cases. The lender will also pay your closing costs and the settlement fees. Some lenders will even pay towards a buyer's closing costs.

I am Current on my Mortgage. My Lender is Telling Me to Stop Making Payments. What Should I Do?
Routinely, call center personel give homeowners really bad advice such as advising them to fall behind on their mortgage. Most short sale program requirements state that the homeowner must be at least 30 days late however that requirement is related to closing. If necessary, the lender will withhold payments prior to closing. A typical short sale can take 2-6 months to close, which would result in 2-6 months of late payments if the homeowner fell behind early in the transaction.

My foreclosure sale date is within 4 weeks. Will my lender stop the foreclosure for the short sale?
As the homeowner, you can attend your foreclosure hearing and ask the judge for more time if your home is not under contract. Real estate agents are prohibited from doing that. If your home receives a contract and is close to foreclosure, your lender will likely delay the foreclosure sale until your contract and hardship package can get evaluated.

I received a solicitation from someone who wants to buy my house for cash. They will even handle the negotiation with the lender. Is this legit?
Some "real estate investors" target homeowners with properties where a Notice of Hearing and a Notice of Default has been filed. They are attempting to defaud your lender by flipping the property to another buyer while they negotiate a low offer with your lender. These types of transactions are being banned by the lenders and could result in an unsatisfactory outcome for you. For the most part, these people should be avoided.

I received in the mail a solicitation from a company offering to assist with my short sale or loan modification for a fee. Is this legit?
Absolutely not! It is illegal to charge up-front fees for short sale or mortgage modification services. If attempting a mortgage modification, I would recommend seeking help from a local HUD counselor, which is absolutely free.

What is the process of a short sale listing?
Your mortgage company is thoroughly involved in the selling process. The bank will review a host of documents and will need to agree to a short sale proposal. The proposal will consist of your hardship letter, proof of your hardship, a listing agreement, a sale agreement with a buyer, sample HUD-1, a comparative market analysis (CMA), bank statements, pay check stubs, tax returns, and other requested documents.

As a result of their involvement, the home will need to be listed for sale "As-Is" with the seller unable to make repairs. Also, all agreements must be submitted to the bank for approval. This takes time and so as a result, it may be a number of weeks to many months before a short sale is approved. If the home has both a first and second mortgage, both will need to be negotiated independently, which may further delay the process. All commissions and attorney's fees are set by the bank upon agreement of the short sale and are paid from their proceeds. In most cases, the seller will not receive any proceeds from the sale of the home however for FHA, some conventional short sales, and a select few Bank of America short sales, the seller can receive a relocation incentive at closing.

When can I leave my home if I'm facing a possible foreclosure?
It is not recommended for you to move before the sale of your short sale. A vacant home can be considered abandoned by your lender and many have been known to gain entry to vacant homes, rekey, and secure the home at your expense. Also, there may be tax implications for moving and changing your primary residence.
If you, or someone you know needs to sell their home, but owes more than it is worth, contact Pamelyn Meller, The Property Shoppe Team today (608) 469-5199, for a FREE, no obiligation consultation to see if we can help.


* FTC MARS Disclosure for Consumer-Specific Commercial Communication - Important Government Notice: You may stop doing business with us at any time. You may accept or reject the offer of mortgage assistance we obtain from your lender, or servicer. If you reject the offer, you do not have to pay us. We are not associated with the government, or our service is not approved by the government or your lender. Even if you accept this offer and use our services, your lender may not agree to change your loan. If you stop paying your mortgage, you could lose your home and damage your credit.